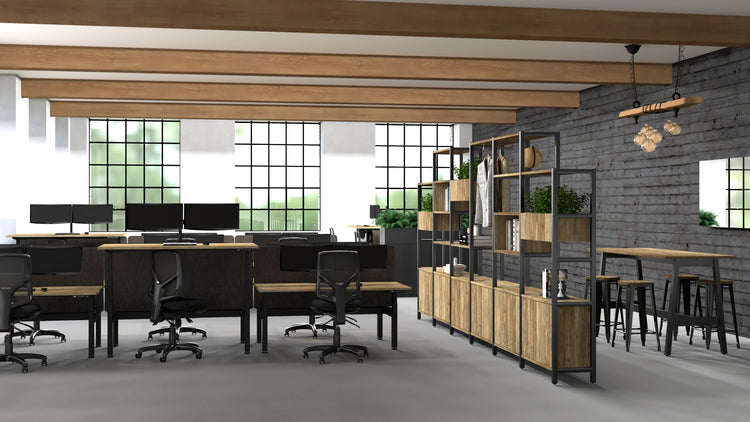 Desks in Wellington
A good desk has a huge impact on your work. Whether you are looking to set up a home office or you need to outfit a new workspace for multiple people, Hurdleys Office Furniture has a great range of desks in Wellington that allows you to make the most from your space. As a family-run business with traditional values, you can be sure that we care about each of our customers and we want them to have a great experience shopping with us. You can be reassured that we have well-designed furniture that is durable. What is more, a lot of our furniture can also be customised so that you get the right size and specifications for your office space. Read More
Find the Right Desk for You at Hurdleys Office Furniture
At Hurdleys Office Furniture, our huge range of desks in Wellington means that you can find exactly what you are looking for.
We sell:
Fixed height desks
Height adjustable desks
Home office or study desks
Lecterns
Office pod desks
When used in combination with a height-adjustable chair, you can get a comfortable working experience when you choose a fixed-height desk. They are ideal for working from home, as well as for students who are studying. You will discover that we have a great range of fixed height desks at Hurdleys Office Furniture, including corner desks that are great for making the most of your space.
A height-adjustable desk is great for those who are taller or have back pain, as well as those who have disabilities. By adjusting the height, you will be able to get the desk to exactly where you need it to be to allow you to sit comfortably and work.
Standing desks are also a great option for those who suffer from back pain, and they are becoming increasingly popular. They also help to increase productivity from your workers, as well as offering a lot of other health benefits. By choosing a standing desk that can be height adjusted, it can always be lowered should you need it to be, and this would allow your workers to sit down.
At Hurdleys Office Furniture, we can also provide, deliver, and install desk pods. We have many different designs, including inline and back-to-back pods. A pod design makes the most of the space you have, and it allows for better interaction between your colleagues. As well as this, with divisions in place, your workers can have any necessary privacy to complete their work.
Looking to Buy Desks in Wellington? Choose Hurdleys Office Furniture Today
If you are looking for desks or office furniture in Wellington that will work for your office, look no further than our office furniture store.
We have a hands-on customer service team who can support you with any questions you may have about any of our furniture, and they can offer excellent online support. You can contact us by email, phone or by using our online chat function.
Buy your desks in Wellington today, and you can look forward to fast turnaround times and delivery so that you can soon begin to enjoy the benefits of your new desk. Read Less