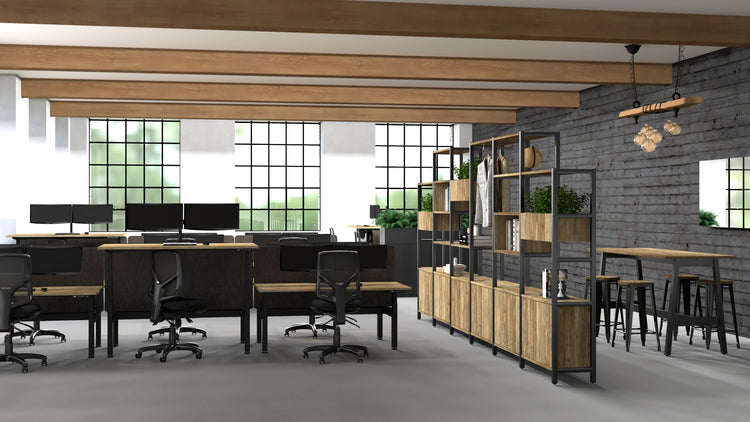 Desks in Hamilton
Hurdleys are proud suppliers of office furniture based in Auckland. If you're looking to buy desks for your Hamilton business, then we're the people to talk to. We offer a great selection of furniture and accessories, including cabinets, chairs and desks. With a wide variety of designs on offer, you are bound to find something that fits your office needs.
Purchasing new desks for your office can be a difficult task. Every office has its own unique needs (change to characteristics) and you'll need to find the right fit for your workspace. Luckily, Hurdleys offers a wide range of desks to suit all kinds of offices. Whether you are buying for a WFH setup or an open-plan multi-desk space, we have you covered. Our enthusiastic team will put 110% into helping you transform your office. Read More
How to Buy the Right Desks for Your Business in Hamilton
When looking to buy desks in NZ, businesses are enjoying the benefits of choosing Hurdleys. We try to give our customers as many options as possible, so that they can find the exact right fit for their furniture needs. We offer a variety of desks, available in a wide range of styles, colours, and sizes. Our furniture is utilitarian, durable, and stylish. We offer all sorts of desks, including sitting, standing desks, corner desks and hybrid. You should be able to find something that will fit in seamlessly with the rest of your office.
Our desks are also designed with practicality and ergonomics in mind. In recent years, many people have become aware of the health risks associated with sitting for prolonged periods. Our motorised hybrid desks allow you to adjust the height of your desk, allowing you to work while standing or sitting. Many people are now realising the benefits of investing in a hybrid desk, as standing at your desk can lower blood pressure and help to prevent heart disease.
Why Choose Hurdleys for Your Desk Needs in Hamilton
If you're a Hamilton-based company, Hurdleys is the perfect choice for your office desk needs. Based only an hour away, we can help you find the best NZ-manufactured furniture for your office. We have over 4 decades of industry experience, and we have a strong commitment to delivering a quality service.
We are a family-owned business and we have built a friendly, approachable team that reflects our values. We have short lead and quick turnaround times, that is something we pride ourselves on. We don't like to keep people waiting. Often, when companies need furniture on short notice, they come to us. We are devoted to supporting Kiwi businesses. We source as much as we can from NZ suppliers, so you can be assured that your money is going back into our own economy.
Buy Desks for Your Hamilton Office Online Today!
If you want to know more about our office furniture, visit our website and order online today! Or, if you want to check us out in person, visit our central Auckland showroom and speak with a member of the team! Read Less