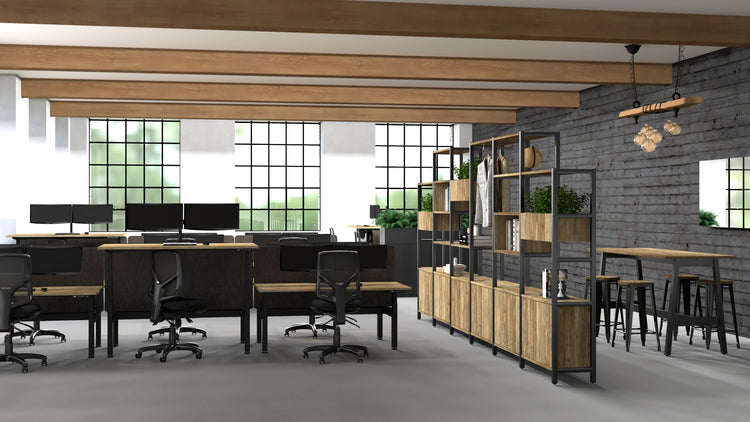 Office Desks in Christchurch
Office desks have a function, but did you know they can be colourful and creative too? At Hurdleys Office Furniture, our office desks in Christchurch give you a fantastic range of options to improve your workspace. We can get the right office desk in Christchurch no matter whether you are an individual or looking to fit out a whole new office. With everything from individual desks to pod designs, you are sure to find what you are looking for. Read More
Find the Best Office Desk for Your Business in Christchurch
When you are looking for office desks in Christchurch, it is good to know that you can get exactly what you want from Hurdleys Office Furniture. That is because we custom-make many of our items of furniture, so you can get the size and specification that works for your office and the number of workers that you want it for.
Our desks also come in a variety of colours and textures, so they are a great way to brighten up any dull spaces and make your office welcoming.
You also have options such as adding a power and data box into the table so that you and your colleagues can charge devices while they are sitting there. As many businesses now rely on technology, this is a great feature to have.
Pod designs are fantastic for busy offices, and they can seat varying numbers of people. Just let us know when you order how many you would like it to seat. With a pod design, your workers can have the space they need to do their job, but it is also sociable enough for creative collaboration.
We have various pod designs, including inline and back-to-back so it is easy to choose a layout that works for your office space.
Hurdleys Office Furniture: Your First Choice for Office Desks in Christchurch
When you are looking to buy office desks in Christchurch, Hurdleys Office Furniture is the company to deliver you well-designed and durable products that transform your space and offer you all the practicality that you need.
If you need any advice when choosing your desks for your Christchurch office, our team are here to help. We have a hands-on customer service team ready to support you. You can choose to buy online and use our live chat support or send us an email. We offer free shipping to on the imported online desks, so there are no extra expenses.
As a family-owned business with traditional values, you can be sure that we care about our customers. We want you to have the best experience, and we value each and every customer.
If you need your new office desks quickly, we will endeavour to get them to you as soon as possible. If you do need your desks urgently, give us a call, and we will do our best to get them to you by the time you need them.
Contact Us For More Information on Our Office Desks in Christchurch
Browse through our range of office desks today and get one that works for your specifications
Hurdleys Office Furniture is a furniture store in New Zealand. We can help you with your office chairs, study desks, ergonomic chairs & more for your location. Browse our website further or contact us for more information. Read Less